Webinars:
Update on COVID-19 Tax Relief: Employee Retention Tax Credit

Wednesday, 12, 2021 | 1 - 2pm

Webinar on two important tax credit programs.
The Employee Retention Credit (ERC) encourages businesses to keep employees on their payroll. As a result of the new legislation, eligible employers can now claim a refundable tax credit against the employer share of Social Security tax equal to 70% of the qualified wages they pay to employees after December 31, 2020, through June 30, 2021. Qualified wages are limited to $10,000 per employee per calendar quarter in 2021. Small employers may request advance payment of the credit (subject to certain limits).
In its race to get Americans vaccinated against COVID-19, the Biden administration recently announced a tax credit for businesses that give employees time off to get vaccinated. Speakers will review issues of eligibility and how companies and on-profits can apply for the credit.
Register Here
Zoom Virtual Open House Date - Will Share Updates & New Information
Ryan Companies will provide an update on the former Farmers Insurance building and the planned residential units which will be developed in part of the parking structure's location.
Tuesday, May 11th | 4 - 5pm
Wednesday, May 12th | 5 - 6pm
Thursday, May 13th | 6 - 7pm
We hope you will plan to join Ryan Companies to learn more about their residential building plans at one of the three 'virtual' Open House event at one of the dates/times listed above. Each event will present the same information, so please attend whichever one suits your schedule best.
Learn More & Register Here
Upcoming Chamber Events & Activities
Webinars, Workshops & More
We are ready to welcome back our beloved Mercer Island Farmers Market. The first market of 2021 will be on Sunday, June 6th from 10am – 3pm. You can expect COVID-19 safety protocols, but you can also expect some of the fabulous food, flower, and gift vendors that you've come to enjoy purchasing from. Please…
Learn More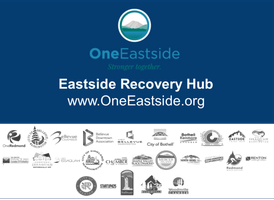 OneEastide – Eastside Recovery Hub OneEastside was formed to respond to the COVID-19 crisis by providing small businesses and non-profits…
Learn More
Please support our Platinum Circle Members